The HomeVision controller brings together seven key home automation features in a single unit:
| | |
| --- | --- |
| | Video output displays menus and control screens on your TV |
| | Two-way infrared capability so you can control HomeVision, and HomeVision can control all your audio/video equipment |
| | Two-way X-10 communication controls and monitors lights, appliances, thermostats, security systems, etc. |
| | 24 digital inputs/outputs provide direct connections to other equipment |
| | Battery-backed clock controls events based on time, date, sunset, etc. |
| | Two-way serial interface provides full control and status reporting via a PC |
| | Web server provides control from any web browser anywhere in the world! |
In addition to these built-in capabilities, you can add on telephone control and other capabilities! HomeVision is a stand-alone automation controller that is initially configured with a PC. It can then be disconnected if desired. HomeVision constantly watches for any events you've specified, then performs whatever actions you've told it to do. Any event can trigger any other event(s). The possibilities are limited only by your imagination. See our example system diagram to see what a complete system may look like, or read more about what you can do with HomeVision.
HomeVision generates video text for display on your TV. The line-level (RCA jack) output connects directly to a video jack on your TV or VCR A built-in video switch can switch the output between HomeVision's video screens and an incoming video signal, essentially bypassing HomeVision when desired. NTSC video is standard, but PAL video is available for international users.
HomeVision has over 50 built-in screens to control your home, including compatible HVAC and security systems. Screens provide status/control of:
| | |
| --- | --- |
| | HVAC |
| | Security |
| | X-10 |
| | Macros |
| | |
| --- | --- |
| | I/O ports |
| | Scheduled events |
| | System time and date |
| | Weather data |
| | Programming objects such as flags, variables, and timers |
| | and much more ! |
There's also a 256-line event log so you can see what happened and when. Even help screens are included.
If the built-in screens don't suit you, you can create your own! Develop personalized control screens, display messages or reminders, etc. You control what's displayed and where it's displayed. Even choose the background color, character size, character blinking, and more! Software version 2.6 makes it easy to create completely custom menus in minutes!
Sample TV Screens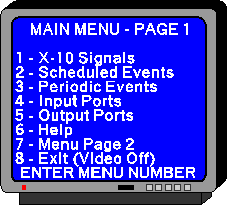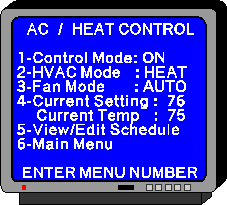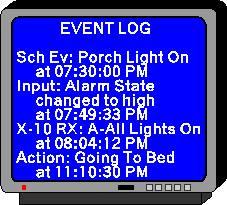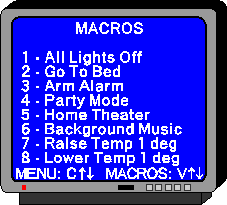 Thermostat Control
| | |
| --- | --- |
| HomeVision can control up to 16 thermostats via X-10 or the serial interface. It can automatically run two of the thermostats to different schedules (each with eight times/temperatures per day, and three different daily programs). You can reprogram the schedule from your TV! Even view the actual temperature, setpoint, and mode and control them with your remote. Raise or lower the temperature via X-10 without getting out of bed! Set the temperature back automatically when you leave home, and restore it when you return. | |
Works great with the RCS TX10, TX10B, TX15, and TX15B X-10 thermostats. These give you direct X-10 control of setpoints, modes, etc. The TX10-B also reports the actual temperature, setpoint, and modes back to HomeVision via X-10! Also works with the RCS serial (RS232 and RS485) thermostats, TR15, TR16, TR36, and TR40 (although the TR36 and TR40 stat's display message capability is not directly supported).
Can also integrate with Enerzone RS-232 thermostats when connected to a PC. Click here to read how one HomeVision user has set up a 5-zone Enerzone StatNet system with lots of custom TV screens!
Security System Control
HomeVision has built-in commands and video control screens for controlling and receiving status from security systems. It works best with a GE (formerly CADDX) security system connected to a HomeVision serial port (either the built-in port or an add-on port). However, it can also work with most other types of security systems (see our application note on interfacing HomeVision to security systems for more information).
Any standard programmable or learning remote can be quickly configured to control HomeVision. You can then issue commands or control the video screens displayed on your TV without getting up from your chair. A press of a single button on your remote can trigger any actions you want! HomeVision also learns up to 255 infrared signals which it can then transmit to control TVs, stereos, etc. Since all of HomeVision's functions are cross-linked, X-10 commands or other events can easily trigger IR signals and vice-versa. You can also set up HomeVision so that a sequence of received signals triggers an action.

The infrared transmitter and receiver are built into HomeVision's front panel. In addition, a rear jack allows direct connection of external IR transmitters. The optional Multifunction Expansion Board provides 8 zones of infrared output. With a whole-house IR distribution system, you can control HomeVision remotely from anywhere in your home!
HomeVision can transmit and receive all X-10 signals for all 256 addresses. This includes advanced commands like Preset Dim and Status Request. HomeVision constantly monitors the power line and tracks the state and brightness level of each module (which you can view on your TV!). Any X-10 signal or sequence of signals can trigger any event(s). X-10 transmission reliability is maximized with advanced error/collision detection and multiple automatic retries. The scheduling software provides over 50 X-10 commands allowing you to easily create powerful programs. Send multiple dim/bright commands, set to a specific level, transmit individual house and unit codes, etc., each with a single command.
Supports:
| | |
| --- | --- |
| | X-10 LM14A and AM14A modules (read status, "direct level" commands, fade on/off, level memory, etc.) |
| | Leviton 6381, 6343 and similar switches ("scenes", "direct level" commands, fade on/off, level memory, etc.) |
| | SwitchLinc X-10 two-way switches ("scenes", "direct level" commands, fade on/off, level memory, etc.) |
| | PCS brand lighting modules (preset dim, micro-dim, fade on/off, level memory, etc.). |
| | Lightolier Compose switches (in either "Compatibility" mode or "Compose" mode). |
| | RCS TX10, TX10B, TX15, and TX15B thermostats. |
| | |
| --- | --- |
| | Virtually all other X-10 devices and capabilities! |
| | Single-phase or three-phase transmission. |
In addition to X-10, HomeVision has the ability to control UPB switches and other non-X10 lighting systems by using its "custom lighting" feature!
Three types of I/O ports connect to external equipment through board-mounted terminal blocks:
| | |
| --- | --- |
| | 8 relay-driver outputs to drive your own external relays or solenoids. |
| | 8 digital inputs for direct connection of switch-closure type devices (such as switches or relay contacts) or direct DC voltages. Inputs can withstand +/-30 volts. |
| | 8 bi-directional digital (+/-5V) I/O. As inputs, they can connect to switch-closure devices or external digital circuits. The inputs are so sensitive, you can even connect two plain wires to use as a water detector! As outputs, they can drive low-power devices such as LEDs or external digital circuits. |
All ports can be controlled/read individually or as a group. Output ports can be "pulsed" on and off with millisecond precision. Inputs can be used to trigger actions if desired.
If you need analog inputs or more digital inputs, add a Multifunction Expansion Board (or two!). This board provides 8 analog and 24 digital inputs, plus 8 zones of infrared output and connections for 64 digital temperature sensors. You can also add I/O boards from Sylva Control Systems. In total, you can have:
| | |
| --- | --- |
| | 96 digital inputs [32 opto-isolated via Sylva I/O boards] |
| | 48 outputs [8 digital (via HomeVision Port C) and 40 relays(8 driven by HomeVision Port A, 32 on Sylva I/O boards)] |
| | 16 analog inputs |
| | 64 digital temperature sensors |
Phone Control
By adding on HomeVision-Phone/Serial or HomeVision-Phone/CID, you can have complete control of your home from any touchtone phone inside or outside your home! HomeVision-Phone/CID also adds caller ID.
The real time clock automatically adjusts for leap years and daylight savings time. It accurately tracks sunset and sunrise times based on your latitude and longitude. Events can be scheduled based on sunset/sunrise or fixed times. Limit events to specific days, dates, months, etc. if desired. "Security" feature can randomly vary an event by up to +/- 4 hours around the base time (you control the interval!). Great for giving your home that "lived-in" look while you're away. Periodic events can also be set up to perform actions at preset rates.
The automatic power failure recovery routine is extremely powerful yet flexible. Events which were missed while the power was out can be "caught up" when power returns or skipped altogether. Timers which were running when the power failed are handled properly, with events performed in the proper sequence (even with intermixing of scheduled events and expiring timers).
Powerful Programming Language
HomeVision is initially set up through the supplied Windows-based PC program. The program (schedule) is then downloaded to HomeVision, after which the PC may be disconnected. The schedule is "event-driven"; you simply enter the actions to perform when the specified event occurs. Programming is by "pointing and clicking"; there's no need to memorize or type in complex statements. Commands are entered using list boxes, push-buttons, spin-buttons, etc. Commands and conditions are displayed in easy-to-understand English text, not bizarre syntax. An online help file is always available to guide you if you need assistance.
The extensive programming capability includes a complete set of flags, variables, timers, delays, waits, macros, etc. (255 of each!). If-Then-Else statements with multiple And/Or conditions can be "nested" 15 levels deep. Over 450 different commands and over 170 conditions are available. Advanced commands provide such capabilities as millisecond-accuracy delays, logging of time and date, indirect accessing of variables (one variable is the pointer to another) and variable mathematics. All events can be individually enabled or disabled. This simplifies schedule development, as events can be disabled until they are working properly, then enabled.
A sample schedule is supplied with the controller implementing a wide variety of functions. Most are initially disabled; you just enable the ones you want and make a few simple changes like setting your own X-10 house and unit codes. With this schedule as your starting point, you'll be up and running in no time. And since HomeVision can handle schedules of over 8000 lines, you won't run out of memory any time soon !
See our software tutorial page for an overview of the software and example screens.
You may also be interested in the free HomevisionXL program developed by Schelte Bron, a HomeVision user. This is a cross-platform tool for developing schedules for HomeVision and HomeVision-Pro. It's a very powerful program that can do many things that the HomeVision software cannot.
All of HomeVision's functions can be controlled over the serial interface (command and message protocol is fully documented). Operating from 1200 to 57600 baud, HomeVision can be controlled by the supplied PC program or any other program or device which can transmit serial data. HomeVision can read in ASCII and binary data, and take any actions based on it. It can also transmit ASCII text or binary data to control your PC or other devices. It can also be configured to automatically report the occurrence of any event. This makes debugging your schedule a snap, as each event automatically sends a message to your PC for display or logging to a file. You can use any communications program or the built-in terminal emulator for this purpose.
Use the serial interface to communicate with a:
| | |
| --- | --- |
| | Computer (PC, Mac, etc.). |
| | Thermostat |
| | Security system |
| | Modem (dial your pager to send messages !) |
| | Weather station |
| | Many other devices |
In addition to the built-in serial port, you can add on up to three more ports using HomeVision-Serial and HomeVision-Phone/Serial. Two of these can even be RS-485 ports!
Whole-House Control From Your PC
Although HomeVision can operate without a PC, the PC program includes a variety of screens to give you complete control over HomeVision while it's connected. These screens provide direct control for X-10, infrared signals, I/O ports, macros, video displays, and more. In addition, HomeVision can play WAV (sound) files or run other programs on your PC when commanded by the controller. Or send an e-mail by adding a simple batch file (download zip file here).
You can also control HomeVision with a variety of powerful software programs:
| | |
| --- | --- |
| | HAL2000 |
| | Home Voice |
| | |
| --- | --- |
| | ACE |
| | HomeSeer |
| | Linux software |
| | |
| --- | --- |
| | HomAtion 2000 |
| | ECS |
See our software page for more details.
The HomeVision computer program contains a built in web server. This provides several capabilities:
| | |
| --- | --- |
| | Turns your computer into a web server that serves files to web browsers. |
| | Can be accessed by any web browser. The browser can be on the same PC as HomeVision, on another PC on a network within your home, or anywhere in the world (if you have an Internet connection to your home PC). |
| | Can automatically create web pages showing HomeVision status. |
| | Can insert HomeVision status and control objects into custom web pages you create. |
You can view examples of the built-in web pages. Note that the buttons on the page won't operate because this is only a demo. Go here to view the example pages.
In addition, we have a Flash movie that can run in a web browser and can control HomeVision and HomeVision-Pro. This provides a fancier graphical interface than the standard web pages shown above. See this page for details.
Finally, the software also has a "Remote Internet Access" capability. This allows a copy of the HomeVision software running on one PC (the client PC) to control a HomeVision unit connected to another PC (the server PC). Basically, the client PC can control the remotely-located HomeVision unit as if it was directly connected to the client PC.
High-Speed Performance
HomeVision was engineered from the ground up to provide maximum performance. It's unique architecture allows it to respond to events virtually instantaneously (typically <0.02 seconds). Compare this to other controllers that can take several seconds when running large schedules.
High Reliability
HomeVision was designed from the start with reliability in mind, and comes with a 3-year warranty. Read the HomeVision reliability page for all the details.
glue on beard prada chest bag carlucci restaurant chicago prada instagram mens prada trainers prada running shoes factory outlets online shopping prada skull cap velcro board tamagatchis things like chatgpt captain hat chatgpt character limit prada law test chatgpt prada sunglasses swirl chatgpt app中文 1k instagram followers cucci shirt radiation ark chatgpt 中国注册 limitations of chatgpt mens prada necklace 2000 instagram followers inactive followers instagram prada downtown no side burns fried chicken franchise prada makeup pouch native american amazing grace lyrics aeropostale outlet mall prada milano wallet prada wedding shoes no side burns tienda tommy cerca de mí prada necklaces things like chatgpt factory outlets online shopping prada espadrille wedge prada saffiano tote prada crossbody strap prada cakes prada midnight train instagram followers most prada car chatgpt 中国 注册 instagram followers manager prada factory outlet gucci united states chatgpt 使い方 chatgpt chan blue prada wallet prada eyeglasses lenscrafters factory outlets online prada cat eye gucvi prada employee discount pink prada backpack define prada carlucci's rosemont prada buckle belt prada hawaii prada sunglasses circle chatgpt writing prada rectangle glasses governors charter academy tallahassee florida reebok outlet online prada saffiano tote gucci heuptasje prada candy sephora prada swim shorts who made prada tamagotchi toys carlucci easter brunch prada buckle bag prada eyewear man fried and williams borse prada instant instagram followers diet prada instagram prada doctor bag things like chatgpt chatgpt hacked chatgpt microsoft investment iko driftshake jeff goldblum biz markie used prada wallet beyonce instagram followers banana republic premium outlets chatgpt alternative free www.bananarepublic.com factory chatgpt 应用 carluccis rosemont il prada snakeskin bag slam entertainment chatgpt chatgpt turnitin birkenstock factory outlet online chatgpt
HomeVision Specifications
| | |
| --- | --- |
| Feature | Specification |
| # of flags, variables, timers, scheduled events, periodic events, IR signals, and macros | 255 each |
| Maximum schedule length | 8000 (or more) lines |
| Data log size | 64K bytes |
| TV event log size | 256 lines |
| Port A (8 relay driver outputs) | 50VDC at 500mA |
| Port B (8 digital inputs) ratings | +/-30VDC, pulled-up |
| Port C (8-input configuration) ratings | 0 to 5VDC, pulled-up |
| Port C (8-output configuration) ratings | 0 and 5VDC at 20mA |
| System status LEDs | 7 (Power, TW-523, X-10 RX, X-10 TX, IR RX, IR TX, 1 user-controlled) |
| Infrared receive range | Up to 25-80 feet, depending on remote |
| Infrared transmit range | >25 feet with built-in LED. Unlimited with external transmitter |
| Video output | Color NTSC video standard (PAL video on international units) |
| Dimensions | 5.6" x 6.6" x 1.5" |
| Required power source | 9VDC, 0.3Amps (0.5Amps if driving add-on accessories). 2.1mm plug with center positive |
| Maximum number of Multifunction Expansion Boards | 2 |
| PC operating system | Windows 3.1, 3.11, 95, 98, 2000, NT, or XP |
| Recommended PC | 486, 90MHz, 32M Bytes RAM, VGA monitor or better, hard disk with 6M Bytes free, one serial port (or a USB-to-serial adapter) |
The following table shows the maximum number of hardware interfaces you can have with HomeVision. It also shows which HomeVision accessories are needed to provide these.
NUMBER AVAILABLE FOR EACH DEVICE

Hardware Feature

Maximum Number Available

Base HomeVision Unit

Multifunction Expansion Boards (2 max)

Sylva I/O Boards
(4 max)

HomeVision-Serial
(2 max)

HomeVision-Phone/
Serial
(1 max)

HomeVision-Phone/
CID
(1 max)

+/-30V digital inputs

24

8

8 each
(16 max)

0 to 5V digital inputs

32

16 each
(32 max)

Opto-isolated digital inputs

32

8 each
(32 max)

Bi-directional digital inputs/outputs

8

8

Relay driver outputs

8

8

Relay outputs

32

8 each
(32 max)

Analog inputs

16

8 each
(16 max)

Digital temperature sensors

64

64 max total

Infrared output jacks

17

1

8 each
(16 max)

Infrared output zones

8

1

8 total

Serial ports

4

1 (RS-232)

1 each (2 max)
(232 or 485)

1
(RS-232)

Phone interface

1 line

Yes

Yes

Caller ID

1 line

Yes (if PC is running)

Yes (no PC required)
See our comparison to other home automation systems for more details.